Hplot (Hyper Plot)
Signal Data Visualization and Processing Tool
for Matlab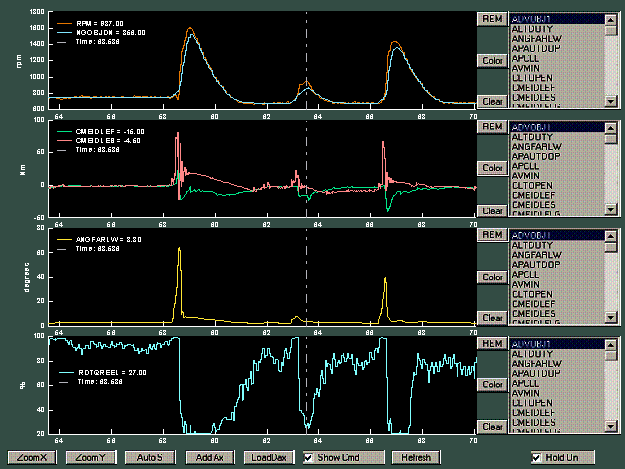 Description:
HPLOT is a dynamic gui tool made for rapid visualization and signal treatment, filtering, FFT and other mathematical operations.
It's possible to add and remove axes with a simple button, zooming all axes present in the figure, immediate color change of lines plotted, ecc.
HPLOT is integrated with Simulink, is possible to plot signal generated from Simulink Scope, from to-workspace block and Time Series log. Is also possible to compare different simulations of Simulink model, for example in order to verify the effect of parameter change.
Hplot include Loadmdf (Measured Data Format reader) for Data Acquisition analisys. It's very advised in automotive and signal processing fields. Other data format recognized are .csv data files generated from Agilent® oscilloscope, .iqt generated from Tektronics Real-Time Spectrum Analyzers.
Hplot moreover contain a system of Auto Update via Internet connection.
Signal Type
Tutte le strutture presenti in workspace contenenti almeno i campi (Time,Data) oppure(x,y) ad esempio strutture del tipo "signal.x signal.y", o "signal.Data signal.Time".
Acquisizioni di segnali in formato MDF data files,( ETAS INCA® BOSCH) importate tramite LoadMdf (incluso in HPLOT).
Dati esportati in formato CSV ad esempio da strumenti digitali quali Agilent® oscilloscope.
Dati campionati in formato IQT generati da analizzatori di spettro Tektronics®.
Strutture generate dagli "Scope Simulink":Attivando l'opzione "Save to WorkSpace" degli Scope di Simulink, cliccando sulla lista dell'elenco variabili si aprirà una nuova sessione di Hplot in cui verranno plottate tutte le variabili in essa contenute.
Strutture salvate dai blocchi simulink "To WorkSpace" selezionando il formato "structure with time".
"Time Series" generate da Simulink ( Matlab R14 e successive) attivando l'opzione "Log Signal"
| | |
| --- | --- |
| · Caratteristiche | (Features) |
| - Numero assi variabile | (Number of axis modifiable) |
| - Import MDF (Measured Data Format) | (LoadMdf is included) |
| - Import Agilent CSV format (Data File generati da strumenti Agilent)* | (LoadCsv reader for measured data files generated from Agilent Instrument Oscilloscope is included)* |
| - Import Tektronics iqt format (Analizzatori di spettro Tektronics)** | (LoadIqt reader for iqt data files generated from Tektronics Real-Time Spectrum Analyzers is included)** |
| - Sovrapposizione grafici | (Plot Overlap) |
| - Operazioni Matematiche fra segnali | (Mathematical operation between signals) |
| - Filtraggio segnali | (Smart Signal Filtering) |
| - FFT segnali | (FFT analysis immediately) |
| - Congelamento segnale per confronto fra acquisizioni e simulazioni diverse | (Freeze graph for compare signals from different simulations) |
| - Interpretazione delle etichette degli stati nel caso di variabili tipo stato o Flag | (Get label name for state signal) |
| - Peack Value cliccando in un punto di interesse vengono mostrati i valori relativi a quell'istante temporale | (Get amplitude and time value at cursor position) |
| - Salvataggio salvando la figura, sarà possibile riaprirla e continuare ad avere tutte le funzionalità di Hplot senza che sia necessario avere le varibili plottate nel WorkSpace | (Saving the figure is possible to rework next time) |
| - Aggiornamenti automatici tramite connessione internet | (Automatic Update via Internet connection) |
*:Avalible from version 5.0
**:Avalible from version 5.2 (Special thanks to Chomora Mikeka for collaboration)
---
Usage

---
Launch
1) >> Hplot (new session)
Apre una sessione vuota in cui è possibile aggiungere grafici di variabili strutturate.

2) >> Hplot(nfig) (apply hplot properties to figure "nfig")
Aggiunge alla figure indicata in [nfig] tutte le proprietà di Hplot.
Comandi
-ZOOM X: (X Axe Zoom)
Permette uno zoom orizzontale su tutti gli assi presenti

-ZOOM Y: (Y Axe Zoom)
Permette uno zoom verticale sul solo asse su cui si punta il Mouse

-AUTO S: (Auto scale o Zoom All)
Riporta tutti gli assi all'intero intervallo di tempo

-ADD AX: (Axe Add)
Aggiunge un asse alla figura

-LoadAcq: (Open Dialog Box for choose acquisition file, ex:.DAT,.MDF,.MAT)
Permette di caricare vari tipi di dati ed aggiorna il grafico attuale (Nota: cancella il vecchio WorkSpace)

-SHOW CMD: (Show Variables List and other command)
Apre alla sinistra di ogni asse una Dialog List in cui è possibile selezionare ed inserire altri grafici

-REFRESH: (Update all graphics with current workspace)
Riaggiorna tutti gli assi con le varibili presenti in WorkSpace.

Comandi Attivi in modalità SHOW CMD:

-Hold On: (Overlap Graph enable)
Se abilitato la variabile selezionata nella ListDlg verrà aggiunta (sovrapposta) al relativo asse altrimenti si sostituirà.
-REM: (Remove axe)
Elimina il relativo asse.
-Clear: (Clear axe)
Ripulisce il relativo asse.
-Color: (Smart change color line)
Modifica il colore delle linee dell'asse corrispondente in modo casuale.
---
Menu contestuale
---
Per ogni linea plottata è presente un menu contestuale come mostrato nella seguente figura:
(For each line plotted is active a Contextual-Menu showed in figure:) E' possibile così fare direttamente le seguenti operazioni sul segnale selezionato:
(It's possible do following actions for line selected:)
Resample

Sono disponibili due modalità di ricampionamento:
a. Manual: Si specifica direttamente il valore della frequenza di campionamento
b. Use Signal: Viene effettuata un'interpolazione con l'asse dei tempi di un altro segnale

Smart Filters

Sono disponibili due filtri interattivi di tipo passa basso e passa alto mostrati nella seguente figura.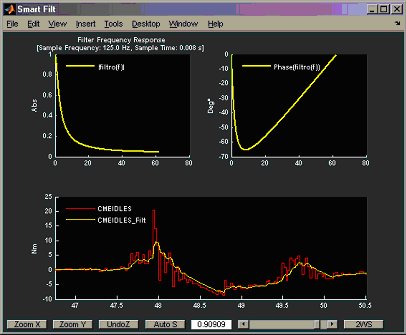 FFT

Viene effettuata una FFT e visualizzata come nella seguente figura:




Math:

E' possibile varie operazioni matematiche fra due segnali anche a tempo di campionamento non uguale.
(It's possible go following mathematical operations between signals, for different time-axes automatical best resample is chosen:)

Somma (Add)
Sottrazione (Subtract)
Prodotto (Product)
Divisione (Division)
Guadagno (Gain)
Offset (Offset)

Signal Info

Mostra il contenuto dell'oggetto con tutti i campi come nella seguente figura:
(Show all properties and fields of selected line)







Copyright © 2002-2018